Show and Use the Card at Participating Business
Use your free Co-op Connections Card at participating businesses on every day items and save!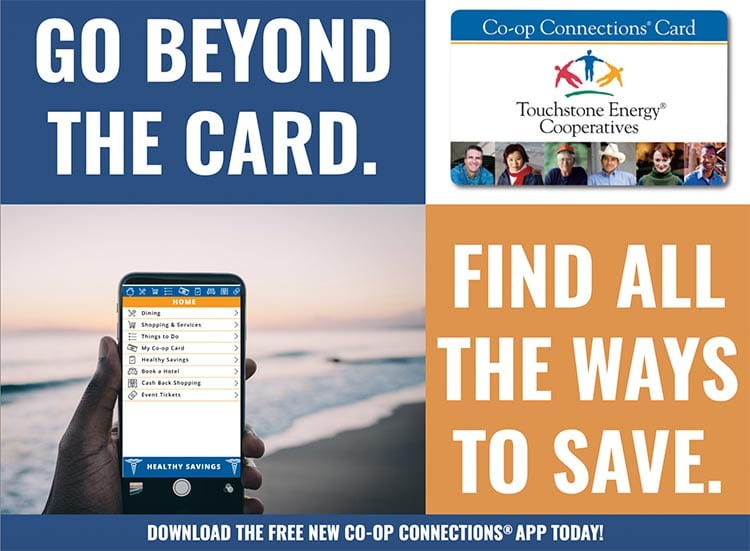 Coweta-Fayette EMC has partnered with over 80 local businesses – restaurants, hair salons, golf clubs, tanning salons, storage facilities, and much more – offering discounts to co-op members. In addition to local businesses, Touchstone Energy®, a national alliance of more than 600 electric cooperatives, has recruited more than 160 national chains such as Choice Hotels, Avis Car Rental, Barnes&Noble.com, Sprint, and many others to offer co-op members national discounts. Your card is good anywhere you see the Co-op Connections Card sticker – whether you are at home or traveling across the country.
Save 10% to 85% on Prescriptions
By using your Co-op Connections Card you will be able to receive 10% to 85% discount on prescription drugs at over 60,000 national and regional pharmacy chain stores—including CVS, Walgreens, Wal-Mart, Target and many more. Learn more about the pharmacy discount program. Touchstone Energy® Cooperatives' Co-op Connections® Program helps you save more and live healthier every day! Our highly successful prescription discount offer is now joined by discounts on dental, vision, hearing, lab work & imaging and chiropractor visits. Best of all, you get all these great benefits for FREE!
Business Owners
If you are a local business and would like more information on offering discounts to thousands of potential customers by having your deal listed online and in our Co-op Connections Card and save brochure, click here for more information.
Need a card?
The Co-op Connections Programs is free to all members of participating cooperatives. One card can be used for the entire family. Cards were mailed to all members in January 2008. If you are a new EMC member and have not received your card, please click here for your free card. Have more questions? Email us or give us a call at 770-502-0226. Download the Co-op connections mobile app here