Washington Youth Tour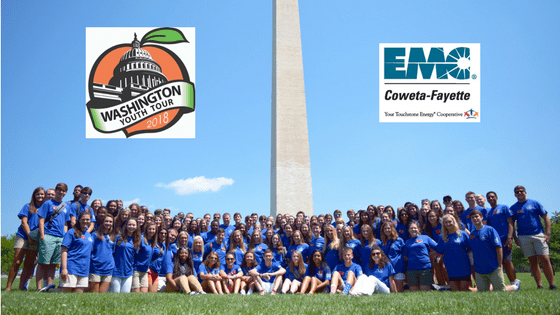 Two students will win a week-long all-expense paid trip to Washington D.C. June 7-14, 2018. Simply fill out the application below and return it to:
Coweta-Fayette EMC
Attn: Youth Tour
807 Collinsworth Rd
Palmetto, GA  30268
You can also drop it off at our offices in Newnan 14 Hospital Road Newnan, GA  30263 and Fayette 103 Sumner Road Fayetteville, GA  30214 or email it to cphillips@utility.org
Entries will be judged on subject knowledge, originality and community involvement. All participating students will receive a free Washington Youth Tour t-shirt.
Application deadline is Feb 15, 2018
 2018 CFEMC Youth Tour Brochure and Application
*Winning students and parents will be required to sign TOUR COMMITMENT and authorization forms. Please do not enter if scheduling conflicts (e.g. internships, summer camps or the Governor's Honors program) may arise. If selected, any participant who fails to fulfill his or her obligation to the Washington Youth Tour and Coweta-Fayette EMC (barring sickness or family emergency) may be subject to trip cost reimbursement. 
You must be a high school junior to enter and 16 years old before June 8.
2017 winners were…
Learn more:  GA Magazine Jan 2018 Section